Jugendliche bauen VW Karmann Ghia in ein Elektroauto um + Video
(25.03.2013)
In den USA haben Jugendliche einen Volkswagen Karmann Ghia in ein Elektroauto umgebaut.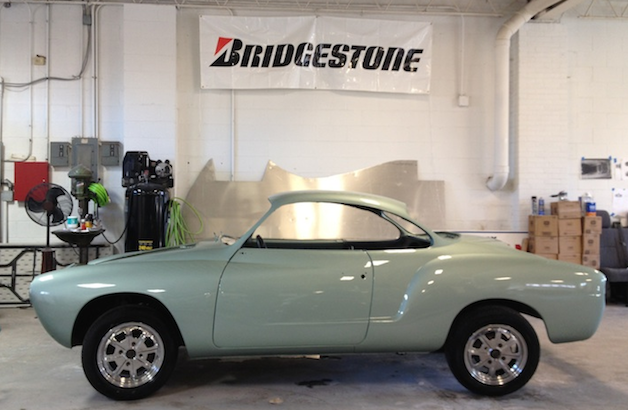 Der Volkswagen (VW) Karmann Ghia mit dem Baujahr 1967 wurde von einer Gruppe Jugendlicher in ein Elektrofahrzeug umgebaut und letzte Woche auf der Kansas City Internationale Autoshow präsentiert.
Die Teenager sind Teil einer Gruppe namens Minddrive (externer Link) und der 67er VW ist bereits das dritte Automobil, welches sie zu einem vollelektrischen Auto umgebaut haben.
Die Gruppe Minddrive hat auch einen batterieelektrischen Prototypen namens Lola EV gebaut, dessen Karosserie von einem 1977er Lotus Esprit entstammt.
Das Elektroauto Karmann Ghia hat eine Reichweite von 48 Kilometern und fährt bis zu 72 km/h.
Bei Minddrive handelt es sich um ein gemeinnütziges Programm, welches unter anderem von Unternehmen finanziert wird.

Vi: Autoblog
Vollständige Pressemeldung (englisch, siehe unten):
MINDDRIVE Debuts Their Electric Karmann Ghia at the Kansas City Auto Show
High school students from the urban core of Kansas City, through a hands-on experiential learning program called MINDDRIVE built the converted, fully electric Karmann Ghia. It makes its debut at the Kansas City International Auto Show and is getting rave reviews by the public.
Kansas City, Missouri (PRWEB) March 09, 2013
MINDDRIVE, a not-for-profit organization in Kansas City, Missouri, is showing three electric cars at this year's Auto Show, all built by at-risk teens taking part in the program hailing from five different schools from the urban core of the city.
The belle of the ball is their latest creation, the fully converted, 1967 turned 2013 electric Karmann Ghia. It was designed, in concept, to be a neighborhood or village car with a top speed of 45 miles per hour and a short range of approximately 30 miles on a charge.
"It's the perfect car for a city like Kansas City", says MINDDRIVE CEO, Steve Rees. "Our city is built on neighborhoods which are very self-sustaining in terms of having everything you need within a 10-mile radius of where you live."
The students first took the car completely apart to assess what could be salvaged and what needed to be replaced. Repairing, sanding, priming and then applying a beautiful new coat of paint meticulously reconditioned the body. The students and their mentors have replaced all of the critical components of the car, including the steering, suspension, and brakes.
Our goal is to create a lightweight proto-type with a fiberglass body and plywood monocoque structure that will allow the vehicle to be built simply and efficiently.
We plan to produce one car a month as a low-production kit car for sale to the public. The car will operate on 6, 12-volt batteries producing 72 volts.
The other two cars on display through the weekend Auto Show are the fully converted electric Lotus, which the students and mentors took on a coast-to-coast journey from San Diego, CA to Jacksonville, FL last June, and a proto-type car named "Lola", which is built using an Indy Champ car chassis. Lola is an ultra-lightweight, efficient concept car that achieved over 300 miles per gallon equivalent during testing
MINDDRIVE is a teaching concept based on experiential, hands-on learning, along with a robust mentoring ratio of approximately one mentor per student. The program focuses on teaching STEM principles of math, science and technology to students who are struggling in the traditional school system but find learning easier through this hands-on approach.
The program exposes the students to many walks of life and a wide variety of careers through the relationships built with their mentors. They then become more engaged in their core subjects at school because they understand what's needed to pursue either a higher education or career path.
###
MINDDRIVE'S mission is to inspire students to learn, expand their vision of the future, and to have a positive impact on urban workforce development. The program is funded through the national sponsorships of Hertz, Sonic America's Drive-In, KCPL and through local foundations and individual contributors. For more information, contact Linda Buchner at 816-916-4111 or Linda(at)minddrive(dot)org